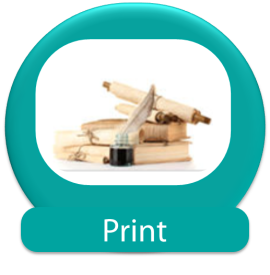 Act Now!
Request A Free Quote

   info@editaura.com

  U.S./East Coast/Boston
(+1) 617-7786797

  West Europe/Spain/Barcelona
(+34) 93-1731323 Ÿ

  East Europe/Czech Republic/Prague
(+420) 2-55712650 Ÿ

  Asia/China/Beijing
(+86) 10-84054256 Ÿ

  Middle East/Israel/Tel-Aviv
(+972) 050-9831911
Print Services
Where your publication venue requires you to supply a product ready for publication, we are your one stop shop, helping you achieve this goal.
editAura offers all print services required on your way to publication, from full print production to any customized print-related services you may require.
Take advantage of the fact that editAura offers you full support on your way to printed matter. From editing, to camera-ready graphics, layout, galley proofs, and final printed output, we tailor suit our services to your needs.
Take control over the layout of your publication and ensure it is best suited for your target audience and print medium. From books, to booklets, to posters, pamphlets, brochures, and even business cards, editAura offers layout services for all types of documents and outlets.
Entrust this most crucial step in your publication process to our hawk-eyed proofreaders who will capture any mistakes that managed to slip through earlier stages of your work and ensure your everlasting signature in the world is free of typeset, layout, and formatting errors or other faults. editAura offers galley proof services that ensure your excellent work is published flawlessly.
Independent complimentary services that can be requested separately:
Either one of our editing packages: proactive scientific editing, contextual editing, linguistic editing
Reference citation and bibliography management (using an EndNote library) ensuring 100% equivalence between citations and reference list as well as consistent, journal-ready formatting and full bibliographic information
Creation of infographics and preparation of publish-ready artwork
Translation into English of scientific manuscripts
Overall manuscript evaluation
Consulting services, including: review of comments your submitted work has received, optimal design and structure of your work to best convey your core messages, potential infographics and artwork that will simplify the understanding of your research ideas and conclusions, assessment of quotes or work samples you have received from various professionals
We are acutely aware of your confidentiality requirements. See our terms and policies.